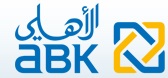 ABK
1967
ABK
Al Ahli Bank of Kuwait (ABK) was established in 1967. It has 28 branches in Kuwait plus a branch in Dubai and one in Abu-Dhabi. There are also 20 ATMs in its network. Banking services are available for individual customers and businesses. Islamic banking, investment banking, international banking, and treasury services are also available. The range of products that it offers includes current accounts, savings accounts, call accounts, and fixed deposit accounts.
Their head office address is: Ahmad Al-Jaber Street, Safat Square, P.O.Box 1387 Safat - 13014 Kuwait
They can be contacted by telephone: (+965) 22400900
Source: http://abk.eahli.com/abk/default.aspx
ABK Services
Personal Banking
Islamic Banking Services
Current Accounts
Savings Accounts Call Accounts
FIxed Deposit Accounts
Daily Interest Accounts
Cards
Loans
Individual Investments
Funds and other investments through Ahli Capital Investment Company
ABK Discussion
Q: I have a Knet account to ABK under my name from my business...My question is AM I INTITLE TO APPLY FOR A CREDIT CARD?

Q: How to check current loan status?

Q: Hi sir, I would like to open a new account. My salary is 750kd per month. Also i would like to know how loan i can avail and the intrest rate for repayment.