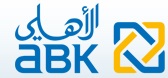 ABK
1967
ABK Business Banking
Business Banking
Working Capital Finance
Invoice Discounting
Term Loans
Mortgage Loans
Letters of Credit
Guarantees
Payment Services
Import & Export Services
International Banking
Corporate Banking
Asset Based Financing
Term Loans
Working Capital Finance
Trade Finance
Structured Cash Financing
Mergers & Acquisitions
Letters of Credit
Guarantees
Overdrafts
Advisory Services
Import & Export Services
Treasury Services
International Banking
Commercial Banking
Credit Facilities
Corporate Finance SOlutions
Treasury Services
Business Investments
Funds and other investments through Ahli Capital Investment Company
ABK Discussion
Q: I have a Knet account to ABK under my name from my business...My question is AM I INTITLE TO APPLY FOR A CREDIT CARD?

Q: How to check current loan status?

Q: Hi sir, I would like to open a new account. My salary is 750kd per month. Also i would like to know how loan i can avail and the intrest rate for repayment.